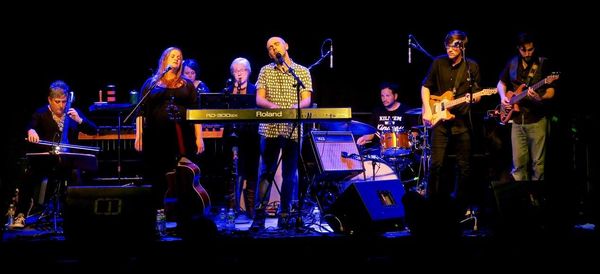 *Photo by Tony Piccirillo
I'm still high from the fumes of such wonderful shows in the Northeast in late March and early April. It was a short tour, but a mighty one! I spent two weeks back on the east coast performing beautiful venues with incredible ensembles of musicians and friends alike. It was a collection of shows that were booked with intention, promoted with care, and rewarded with warm audiences and welcoming promoters. This is the "quality over quantity" approach that I prefer taking as an independent musician these days, and it has made all of the difference in my experiences on the road. It was truly a spring tour to remember.
Many thanks to the following venues and all the folks behind the scenes that helped make these shows happen:
• Nick Dressler at Bates College in Lewiston, ME
• Hal Newman at the Haskell Opera House in Derby Line, VT
• Owen Davie at Catamount Arts in St. Johnsbury, VT
• Rose Chancler and Jennifer Moore at Piano By Nature in Elizabethtown, NY
• Nick Vaden at Higher Ground in S. Burlington, VT
• Glory Douglass Reinstien for all of her help with booking & promotion!
Very special thanks to our amazing sponsors:
• Song & Film
• 104.7 The Point, WNCS
• Zero Gravity Craft Brewery
• Farrell Distributing
• Advance Music (for supplying me with an incredible Taylor guitar for this tour)!
And my deepest gratitude to the incredible musicians I got to perform with:
• Steve Hadeka (drums)
• Seth Barbiero (bass)
• TJ Piccirillo (guitar)
• Monique Citro (cello)
• Jane Boxall (marimba & percussion)
• Lisa Piccirillo Barbiero (vocals)
• Glory Douglass Reinstein (clarinet)
• Tod Pronto (support in Derby Line, VT)
• Ana D'Leon (support in St. Johnsbury, VT)
• Ricochet Duo (support in S. Burlington, VT)
• Cricket Blue (support in S. Burlington, VT)
Cheers!
-Gregory